Your Guide to Buying Women's Silk Nightwear
For ages, silk nightwear has been used by kings and queens due to its softer and royal touch. In today's world, women prefer to wear silk nighties, pajamas, and other types of silk nightdresses to embrace enhanced comfort and add some juice to their love life. This is because we might have seen actresses wearing silky nightdresses to woo their heroes and highlight their sensual appeal.
Now, when it comes to choosing the most appropriate women's silk nightgown, most women don't know how to make the best buy. Well, here is a guide that would help you choose the best silk nightwear.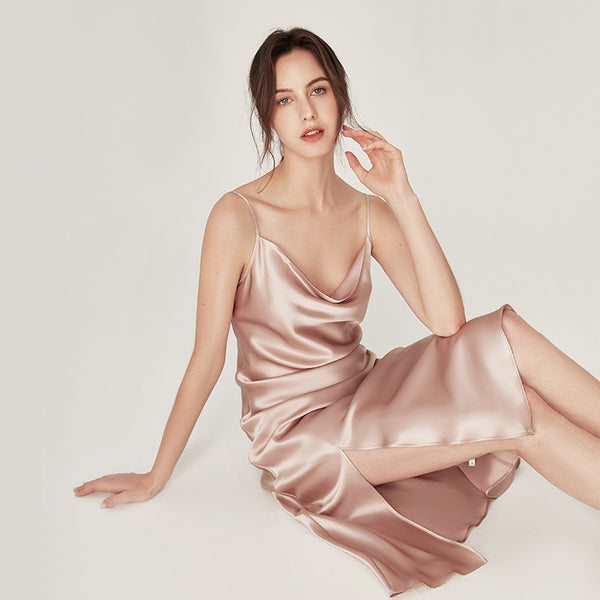 How to buy the silk nightdress?
Silk nightdresses are available in a variety of sizes that are categorized as small, medium, or big. Always buy your correct silk nightwear size when purchasing silk nightwear. Other than this, there are some factors you need to keep in mind while buying a silk nightdress.
Factors to consider when buying silk nightwear:
Understand your sleeping habits
The first step is to understand how you sleep. Are you the type of person that perspires profusely at night?
Do you like to be cool when sleeping?
Do you, on the other hand, cover your entire body?
Asking yourself these questions about your sleeping patterns can help you decide what to purchase. If you prefer not to have your legs covered by clothing while sleeping, short silk pajamas are a better option than a robe or silk long gown.
Choose the right size
Nothing is more vital than knowing your exact body dimensions while shopping for nightwear. When you have the correct size in your brain, purchasing nightwear becomes much easier.
While shopping for nightwear, have your measurements measured and ask for your size. Remember that each brand's sizing varies, so double-check their sizing and ask the sales assistant for assistance. When purchasing nightwear, such as a long gown, it is best to select a size that allows your body some room for comfort.
Pick the right color
Every woman wants to be dressed in beautiful clothing that highlights the greatest characteristics of her body. This is a fantastic habit, and having the proper colors for your silk nightwear can not only make you feel comfortable but also confident.
Colors should be held up to your skin tone to check whether they flatter you. When selecting a hue, personal choice also comes into play.
If you have a bubbly attitude, maybe bold and bright colors are the way to go. If you like a more conservative look, neutral and pastel colors are ideal.
Give consideration to comfort
Silk is a breathable and light material that is ideal for a good night's sleep and reduces sweating. Silk clothing is reasonably easy to keep and wash, preventing you from constantly cleaning your bed linens.
Chemises, camisoles, and long gowns may include a bust support function that will keep your girls in place while you sleep. Choose something that is both appealing and comfy while also performing your intended function.
Stay away from accented nightwear
Nightwear featuring strings, cushioned ribbons, beads, and laces might be distracting when sleeping. Avoid wearing nightwear with these embellishments. If you have purchased such a nightgown, you may remove such things and sleep soundly.
The Conclusion
Though wearing silk nightwear is a wonderful way to get maximum comfort during sleep, it is also necessary to invest in the best quality silk nighties. There are many online and offline clothing stores available that provide high-quality women's silk nightgowns and silk nightdresses, however, the one you can always count on is Slipintosoft. Visit our website to browse through our collection today.