Where to buy real silk sheets?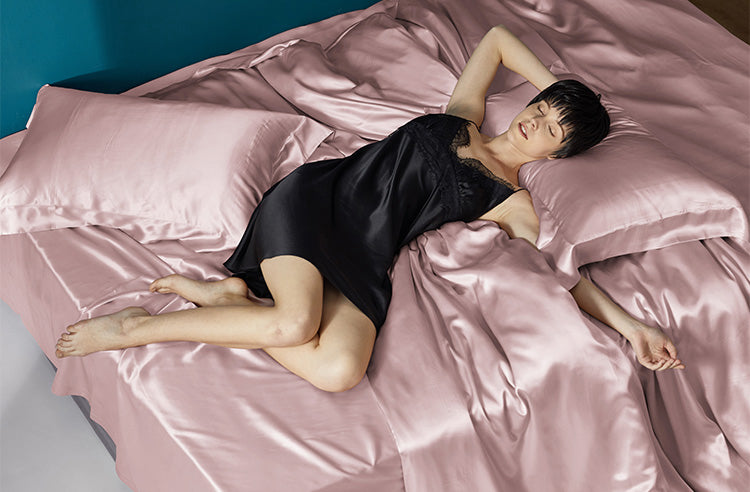 Silk Sheets
are the dream of some people hard to fall asleep for it provides a very soft and comfortable feeling as if you are in a milk bath. However, some questions where to buy the real silk sheets instead of fake ones?
Regarding it, I have to mention another material called satin. It looks extremely like silk and very easy to mix these two materials. Even a person with many years of experience in clothing materials can not distinguish them by eyes only because both of them look smooth with good glossiness. Now let us do it from the aspects below:
If we take the same length of two materials at their nature status and then stretch them. The satin material will be much longer than the silk because satin has greater elasticity. But silk is much softer and tamable.
Let us make two materials folded and put them under a heavy item for more than one hour. After unfolding them, we find the indentation of silk is more obvious because satin is of better compressive property. So we usually say "no wrinkle no real silk".
We can burn the materials. The one without a flame is silk and the one with flame and black smoke is satin. At the same time, satin is of bad smell and after burning it becomes some hard rubber shape but silk becomes the powder after burning.
The most important difference between silk and satin is their ability to keep moisture. We take a skin humidity tester and got a reading of 16% and tie up the wrist with silk and satin for one hour. Then, we got the reading from the wrist with silk 34% and the other 19%. There is a huge difference and why it makes silk more luxurious and expensive. It can keep the moisture and make your skin as if in the water the whole time.
With the methods above, I assume some knowledge has been got about how to tell out the real silk and satin.
But where can you buy the real silk sheets?
SLIPINTOSOFT
is a brand that specializes in real silk items for years and all the items have got decent feedback from customers. Please have a try and you will love it!